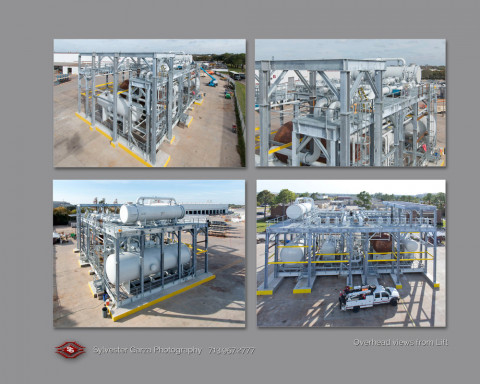 Hello, my name is Sylvester Garza and as a Houston based Commercial Photographer, I provide high quality images for Corporate, Industrial, Investor Relations and Editorial use,
I also offer HD Video Services to support testimonial videos,, as well as informational & training videos. I've got over twenty years experience, excellent people skills and will work with you to complete our mission on time and on budget.
I also really enjoy helping improve photography output quality and offer on-site photo training to corporations . . .as well as, one on one coaching/training to individuals interested improving their photography skills. I offer two Hour sessions to help people learn how to use that new DSLR or Mirrorless Camera
Services include:
* Location Photography
* Advertising/Corporate/Industrial/ Editorial
* Mobile Portrait/Headshot Services - At your location
* HD Video-Testimonial/Training Applications
* Food & Jewelry Photography
* Onsite Photography Training.
* Private Photography Coaching
* Architectural exterior elevations & interiors,
* Product Illustration including Jewelry & Food Photography
Specialties
Actor's Headshots
Annual Reports
Architectural Photography
Aviation
Bands
Beauty & Fashion Photography
Black & White Photography
Business & Corporate Headshots
Canvas Prints
Commercial Advertising (Products, Marketing)
Concert Events
Conferences
Construction
Conventions
Corporate
Corporate Event Photography
Corporate Events
Creative Event Photos
Creative Individuals
Creative Photography
Custom Photography
Customize Photography Sessions
Customized Services To Your Needs
Digital Art
Digital Editing
Digital Enhancements
Digital Image Enhancement
Digital Imaging
Digital Photography
Editorial
Environmental
Equine & Equestrian Sports Events
Event Photography
Executive Portraits
Family Photography (Portraits, Lifestyle, Vacation)
Fashion Photography
Food, Wine & Beverage
Fun
Hdr
Headshots
Healthcare Industry
Hotels
Industrial
Interiors
Jewelry Photography
Landscape Photography
Legal Photography
Lifestyle
Lifestyle Photography
Macro Photography
Modeling Portfolio & Headshots
Music
Musicians
Natural Light
Natural Lighting
Nature
On-Location
On-site Photo Training And Personal Photography Coaching
People
Pet Photography
Photo Restoration
Photojournalistic Style
Portrait Photographer
Portraits
Prints
Private Photography Coaching
Pro Bono for the Underprivileged
Product
Professional
Professional Photography
Real Estate Photography
Retouching
Small Weddings
Special Events
Still Life
Studio Sessions
Videography