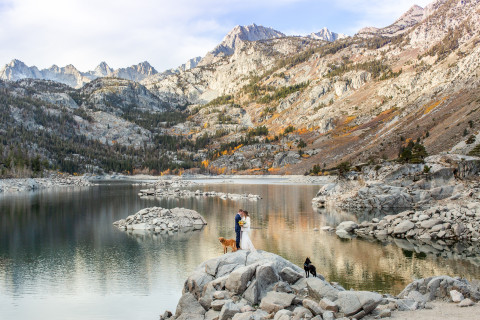 Photographer, dress fluffer, dog person, 90's music enthusiast, tie-dyer, vanlifer, Sierra Nevada Specialist.
Hi, I'm Joleen! I'm an elopement photographer based out of the Sierra Nevada Mountains in California. I live near the border of Yosemite National Park. I've been photographing weddings for more than ten years. When a friend asked me to photograph her Icelandic elopement I had no idea the impact it would have on my wedding photographer's perspective.
Over the course of 10 days we drove around the country. My couple experienced so many slow, quiet mornings. They cabin hopped across storybook landscapes. There was so much joyful anticipation that lasted days as they visited waterfalls, and hot springs, and caves. When they officially got married a few days in, their excitement was not diminished in the least. And the best part was, the adventure wasn't even over yet.
This experience put into words what my photographer's heart had been missing for my big wedding couples:
Time and space to react without an audience, while being in a beautiful location intentionally chosen for themselves.
After returning home I found myself seeking out moments of privacy for my traditional wedding day couples. I realized that a wedding day didn't have to be fully "traditional" and that my desire was to support and guide those brave enough to depart from tradition and dream up the way they wanted to mark the date.
Specialties
Adventure Elopement Photography
Beach Photography
Black & White Photography
California Elopement Photography
Commercial Advertising (Products, Marketing)
Destination Weddings
Digital Photography
Elopement Photography
Engagement Shoots
Fine Arts & Artistic Style
Lifestyle
Natural Light
On-Location
Outdoor
People
Photojournalistic Style
Portraits
Trash The Dress Session
Travel & Tourism
Wedding Photography
Weddings on a Budget