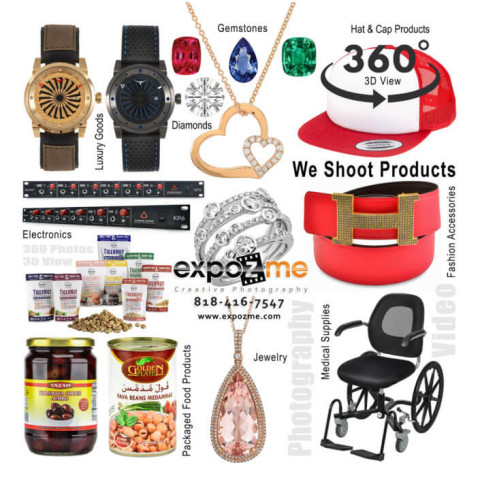 Product Photography, 360 Product Photography, Jewelry Photography, 360 Product Video.
JEWELRY PHOTOGRAPHY Located near Downtown Los Angeles' jewelry district, Expozme Creative Photography is a full service photography and retouching studio specializing in still life photography for products and jewelry. With over 15 years of experience in jewelry photography, Erick Amirkhanian offers a unique lighting style and creative approach to his coveted studio jewelry photography. Erick state of the art digital camera and lighting equipment as well as specialized lenses to achieve remarkably clear images to showcase every item's intricate details and reflections.
360 PRODUCT PHOTOGRAPHY 360 Product Photography solutions by expozme photography Designed for businesses small and large; producing high quality photography for industries including Apparel, Automotive Parts, Caps, Cars, Jewelry, Electronics, Eyeglass and Sunglass, Food, Footwear, General Merchandising, Health and Beauty, Medial, Home Goods, Industrial Parts, Promotional Products, Toys, Luxury Goods, Tools, Sporting Goods, Coins and Collectables, Museum and Artifacts and more.
360 PRODUCT VIDEO
We provide professional 360 Product Photography and Video for your product advertisement online and for trade shows. With 360 Product Video you are able to cross link your online video to your website helping you boost you SEO of your website. We have thorough technical understanding of video and photo techniques and technology, including lighting, exposure, color, composition, lenses, and computer post processing.
LOS ANGELES PRODUCT PHOTOGRAPHER, 360 PRODUCT PHOTOGRAPHY, JEWELRY PHOTOGRAPHER, PHOTOGRAPHY STUDIO LOS ANGELES METROPOLITAN and NATIONWIDE
Los Angeles Product and Jewelry Photographer, Real Estate Photography, Headshot, Portrait, Photographer Erick Amirkhanian and partners at Expozme Photography Studio serving the Los Angeles County, Los Angeles Metro, Los Angeles, West Los Angeles, Beverly Hills, Santa Monica, Malibu, Brentwood, Bel Air, Glendale, Burbank, Pasadena, South Pasadena, Huntington Park, Manhattan Beach, Alhambra, Calabasas, Santa Clarita, Arcadia, Azusa, Glendora, Pomona, Long Beach, Orange County, Irvine, Anaheim, Santa Ana, Newport Beach, Orange, Costa Mesa, Huntington Beach, Laguna Beach, Fullerton, Tustin, Mission Viejo, Garden Grove, Brea, Dana Point, Laguna Niguel, Seal Beach