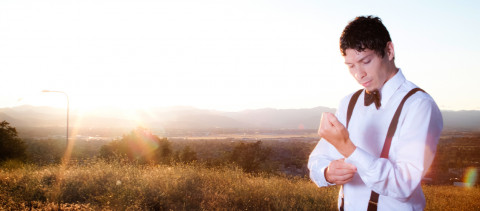 The day of your wedding will be a blur that's over before you know it. There may be thousands of weddings every weekend, but none of them have your friends, your fiancé, or your family. Regardless of whether your wedding is small and intimate, or if the whole town is there, it will be the wedding you have dreamed of since you were a little girl.
Digital photography has done wonderful things by opening up people's ability to express their creativity; however, creativity alone is not a good reason to choose a photographer. Choosing your photographer is about finding someone to capture all the moments, big and small. Weddings are unlike any other event and you only get one "shot" (pun intended) which makes this so much more than a financial decision. It's important to find someone that not only understands and embraces the full capabilities of their equipment, but also has the craftsmanship and experience needed to both navigate the flow of the wedding and direct the wedding party and guests to maximize the time available to capture all the amazing moments.
I have photographed over 350 weddings ranging from Tennessee to Missouri to  Oregon. I've captured beautiful moments from intimate events where there were as few as 25 people to large scale weddings that had more than 400 people attending. Each and every one of these were as unique and beautiful as yours will be. These images will be the personal record of the day you have dreamed of and you will keep them with you for the rest of your life. So before you take that walk down the aisle ensure that the photographer you've chosen has both the passion to capture those beautiful moments and the craftsmanship to make time stand still.
Specialties
Anniversary Photos
Baby Portraits
Beauty & Fashion Photography
Black & White Photography
Bridal Photos
Business & Corporate Headshots
Canvas Prints
Children's Photography
Commercial Advertising (Products, Marketing)
Corporate
Destination Weddings
Digital Photography
Engagement Shoots
Event Photography
Executive Portraits
Family and Class Reunions
Family Photography (Portraits, Lifestyle, Vacation)
Glamour Portraiture
Headshots
High School Senior Portraits
Lifestyle
Maternity & Infant Newborn Photography
Modeling Portfolio & Headshots
On-Location
Parties
Portraits
Real Estate Photography
Retouching
Studio Sessions
Wedding Photography