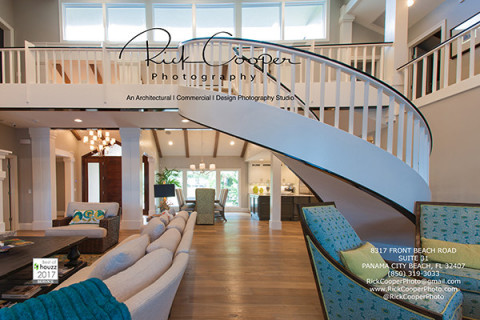 Award winning photographer Rick Cooper has over 30 years experience as a photojournalist having photographed assignments in over 35 countries on five continents.
Rick Cooper's Architectural | Commercial | Design Photography Studio focuses on creating images for editorial, marketing and advertising campaigns. An active member of the American Society of Media Photographers (ASMP), the National Press Photographers Association (NPPA), and the Professional Photographers Association of America (PPA), Rick strives to showcase the creative intent of architects, designers, and home builders as well as providing exceptional photography for homeowners, vacation rental and property management companies.
A four time recipient of the Best of Houzz Award for photography excellence, Rick is also active in the local community, having served as a past president of the Panama City Optimist Club, past president of the Panama City Beach Business Network International Chapter, and past board member and photographer for the Children's Home Society Heart Gallery.
Rick is available for architectural, residential, commercial and real estate photography, retail, restaurant, editorial and marketing campaigns, construction site photography, website and social media photography.
Rick is available for local, national and international assignments including NGO assignments.
Specialties
Action Sports Photography
Aerial Photography
Architectural Photography
Award Ceremonies
Award Winning
Awarded Best of Houzz
Commercial Advertising (Products, Marketing)
Concert Events
Creative Event Photos
Digital Photography
Editorial
Entertainment
Environmental
Event Photography
Hospitality Photography
Hotel Photography
Industrial
Interiors
Landscape Photography
League Sports
Lifestyle
Lifestyle Photography
Luxury Products
Musicians
Non-profit/Charitable Events
On-Location
Photojournalistic Style
Premium Photographer
Pro Bono for the Underprivileged
Professional Photographers Of America
Professional Photography
Real Estate Photography
Special Events
Travel & Tourism
YEAR-ROUND CONSTRUCTION SITE PROGRESS INCLUDING GAS WELLS.
Youth Sport Photography
Youth Sports