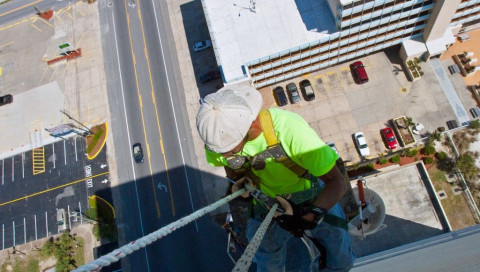 Rick Cooper has over 30 years experience as a photojournalist traveling and photographing people, locations and events throughout the world, having shot in over 35 countries on five continents.
Rick Cooper's Architectural & Commercial Photography Studio focuses on creating images for editorial, marketing and advertising campaigns. An active member of the National Press Photographers Association (NPPA), the Professional Photographers Association of America (PPA), the Association of Independent Architectural Photographers (AIAP), and the Real Estate Photographers of America & International (REPA), Rick strives to showcase the creative intent of architects, designers and creative directors. Active in the local community, Rick serves as a Panama City Beach Chamber of Commerce Ambassador and is an active member of the Panama City Beach Business Network International (BNI) as well as a Charter member of the Panama City Between The Bridges Optimist Club.
Rick is available for architectural, residential, commercial and real estate photography, retail, restaurant, editorial and marketing campaigns, construction site photography, website and social media photography. Rick is also SafeGulf Certified for offshore and platform photo shoots.
As a photojournalist, Rick captures through his cameras the moments that make life remarkable and memorable! "The challenge of getting great shots is what I live for. It's all about observing - feeling the pulse, the heartbeat, of what's happening around me. I shoot constantly, capturing those moments that may never be repeated again".
Rick is available for local, national and international assignments including NGO assignments.
Specialties
Action Sports Photography
Aerial Photography
Architectural Photography
Award Ceremonies
Award Winning
Beach Photography
Commercial Advertising (Products, Marketing)
Concert Events
Creative Event Photos
Editorial
Entertainment
Environmental
Event Photography
Hospitality Photography
Hotel Photography
Industrial
Landscape Photography
League Sports
Lifestyle
Lifestyle Photography
Luxury Products
Musicians
Non-profit/Charitable Events
On-Location
Photojournalistic Style
Premium Photographer
Pro Bono for the Underprivileged
Professional Photographers Of America
Professional Photography
Real Estate Photography
Special Events
Travel & Tourism
YEAR-ROUND CONSTRUCTION SITE PROGRESS INCLUDING GAS WELLS.
Youth Sport Photography
Youth Sports