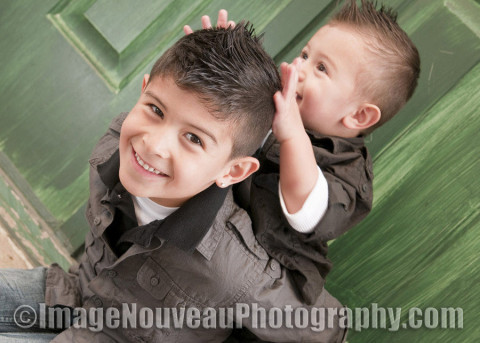 We've all seen the photos from the mass market studios, well get those images in your mind. Now throw them into the wind because that is the complete opposite of what and how I shoot. Although I am available for any photographic need, as you can see I specialize in children's photography up to High School Seniors. My time spent in Orlando as a Producer for a children's theatre group prepared me to see and capture the genuine moments in childhood. I will not shy away from artistic cropping, moody lighting or pictures of non-smiling children
You won't see frozen grins and stiff posing in my portfolio. However you will see families swinging their children, lots of cuddles, laughter and smiles. I love the moments and the emotions of kids being kids with messy hair, a child with a blanket as a cape, a missing tooth or a grumpy Gus. Don't get me wrong, I will take a few shots in each photo shoot in more of a traditional portrait style but overall I love capturing families being families and kids being kids. I want every day real life
That is why I take time with those I'm photographing... to get to know them and to help them to relax and start being themselves. Image Nouveau Photography will give you portraits that beautifully capture the real person... portraits that make you smile and say, "That's so them."
Where will the photo shoot be?
I am a natural light, on-location photographer. In other words, I won't ask you to come to a studio for a few pre-selected backdrops; instead, I come to you. That can mean your house, your favorite park, that really great building downtown - the options are endless. There are also plenty of photographic opportunities throughout the city if you want a more urban feel. Natural light means, I prefer to shoot from the confines of studio lights and umbrellas. Does it mean that I don't use a flash? No! There are situations where a little flash helps so you will see me pull that out. But I much prefer the regular, natural light of the outside, even if it's through a window.
I will always suggest and have new ideas for your shoot to ensure a completely unique photo shoot .If you do not have a spot in mind I have several options for you to select from, some outside and some in. Keeping things natural is number one to ensure comfort of the children and beauty in the images
Specialties
Baby Portraits
Beauty & Fashion Photography
Black & White Photography
Canvas Prints
Children's Photography
Commercial Advertising (Products, Marketing)
Corporate
Destination Weddings
Digital Photography
Engagement Shoots
Event Photography
Executive Portraits
Family Photography (Portraits, Lifestyle, Vacation)
Fine Arts & Artistic Style
Headshots
High School Senior Portraits
Lifestyle
Maternity & Infant Newborn Photography
On-Location
Pet Photography
Photojournalistic Style
Portraits
Real Estate Photography
Trash The Dress Session
Wedding Photography